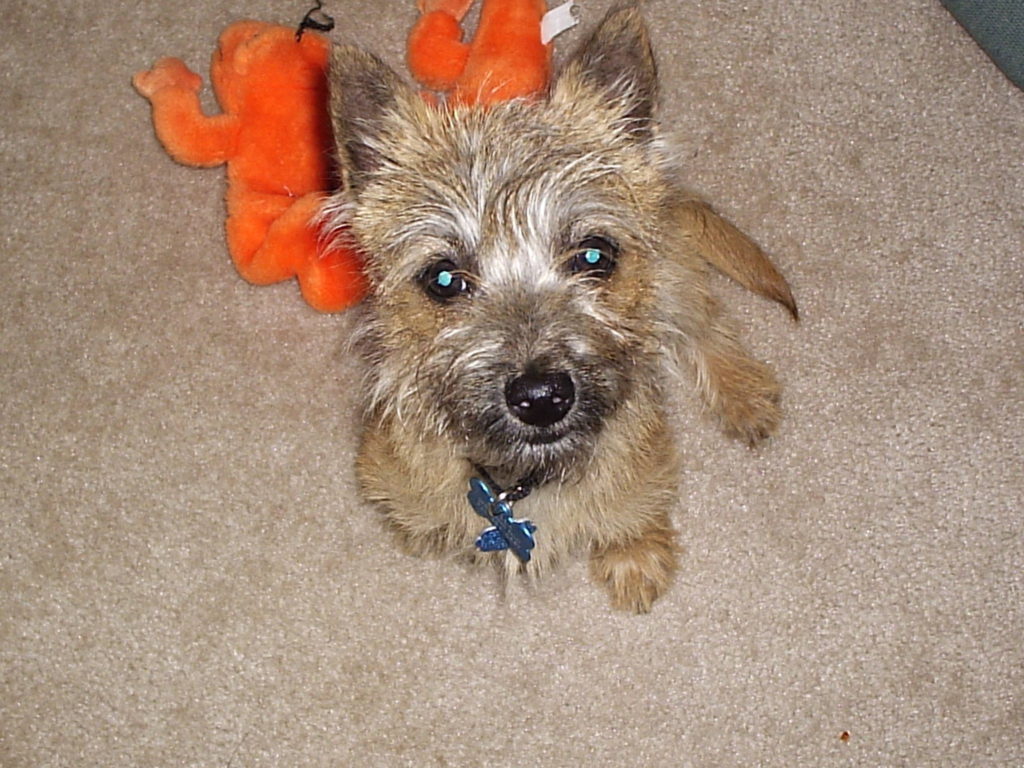 I said goodbye to my best doggie friend this week.  On Tuesday, January 22, 2019, I had to let my best doggie friend, my Scylla doggie, leave this earth.  I held her in my arms at around 10 pm that night as she passed on. I was not prepared – it happened so quickly.  I was not OK – I am still not OK. My children tell me that they had never seen me cry, but that night I could not stop the tears as I held my precious little dog, felt her stop breathing, and then felt her heart stop.  I am crying even now as I write this and recount what happened.
It Happened So Quickly, I Had Little Time to Prepare
On Tuesday morning, I got up early to get to my first appointment.  It was snowing and I knew I needed to leave early to account for traffic.  As I left for my first appointment, I was walking down the stairs, and my dog Scylla, walked over to see me in the morning.  I stopped on the landing, reached up, and scratched her behind the ears. I told her she was a good dog, that I loved her, and asked her to be good for her mommy that day.  She looked at me and panted a bit, which I thought was a bit strange, but perhaps she was just excited to say hello to me, or had just awakened.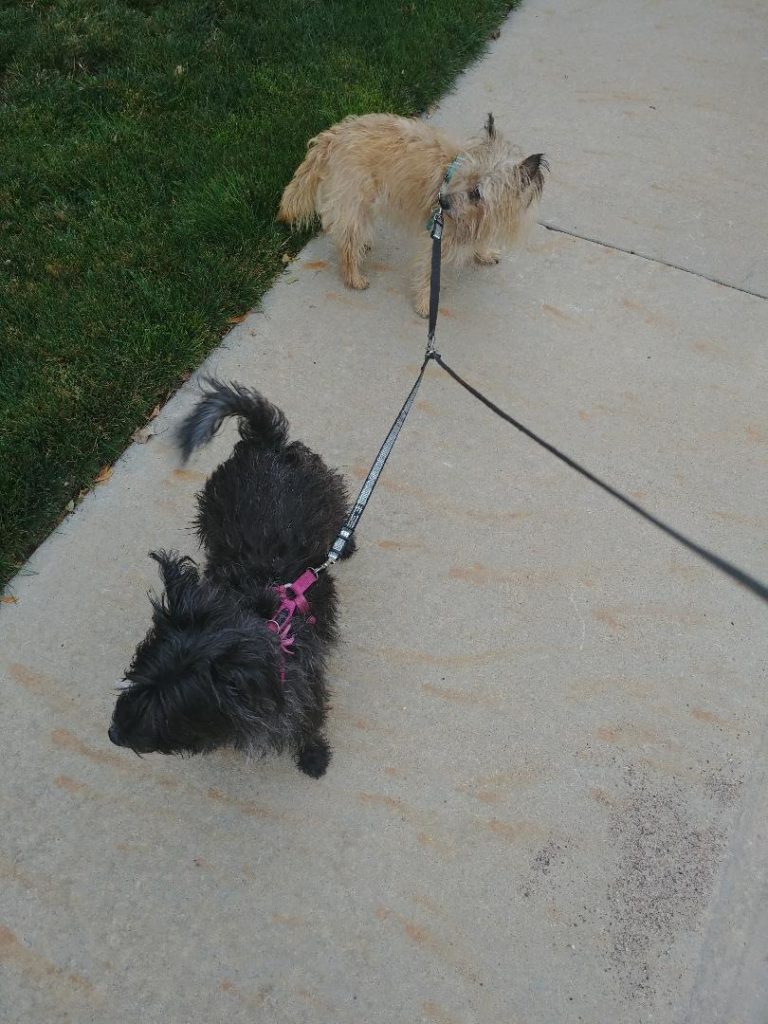 As I left, I saw my wife Brittney taking both Scylla and my other dog Gracie out for a walk.  We usually take both dogs on a walk then, we have a 1.5 mile path we walk each morning. I called my wife and talked to her while they were on their walk.  She mentioned that Scylla was a bit slow, but we both thought perhaps she was not so thrilled about walking in the snow. Scylla had sprained her leg as a young puppy, and it sometimes hurt her when it was cold.  So, my wife shortened the walk and brought the dogs home.
That afternoon, my wife invited Scylla to go with her to pick up the kids from school.  My wife noticed that Scylla was not able to stand up, so my wife picked her up and brought her to school to pick up out kids.  Scylla struggled to stand, or to know how to sit down, and once she lay down, she again could not stand. This continued after the kids got home from school.  Worried about Scylla, my wife called me a couple of times over the course of a couple of hours. I was in a client meeting, so I could not answer immediately, but when I called her back she told me about Scylla.  We discussed how she might have eaten some insulation from the construction we have in our basement, but we did not know what was wrong with her.
Scylla would not eat, she would not drink, and she was unable to stand.  As I was on the phone, Scylla drank some water, but she immediately threw the water back up.  We knew that was a bad sign. In less than a day Scylla had gone from a happy, healthy, energetic dog to one in very bad shape.  I encouraged my wife to take her to the Veterinarian. I had a commitment to referee a basketball game that night, so I did not accompany my doggie to the veterinarian, but my wife updated me.
The veterinarian thought she may have a pyometra infection in her uterus and abdomen, so they ran some tests.  Right before I went out onto the basketball court, the veterinarian had told my wife that she needed to go back to the veterinarian's office immediately see the results of the ultrasound.  Despite knowing that was not a good sign, I got off the phone and went to referee the basketball game.
An Impossible Decision
After I completed the game, I called my wife again.  She said that the veterinarian had confirmed that Scylla had a massive pyometra infection, and that Scylla would probably not make it through the night if Scylla did not have emergency surgery.  The veterinarian said the chances of Scylla making it through the surgery were better than not, but that she would need to have massive antibiotics, and that if the infection had spread, her chances of survival were not great, as she would be recovering from such a major surgery and was 13.5 years old.
After discussing the situation with my wife, we decided we could not do the surgery to our little dog.  She had been such an energetic little doggie since she was a puppy, and we did not want to last phase of her life to be pain, suffering, and recovery where she could not live her life the way she always had, and how she wanted to be.  Even on this day, as she visited the veterinarian and was ill and suffering, she raised her head to see if someone else was playing, and she tried to get up and wanted to play, but her body had let her down.
Letting Scylla Go
When I got home that night, I changed out of my work clothes, gathered my children, and told them that we were going to the veterinarian to say our final good-bye to Scylla.  Despite my telling my six year old son that Scylla was going to die that night, he did not understand.
When we arrived at the veterinarian's office, we let them know we had decided against the surgery and we were going to let Scylla go.  The veterinarian brought us our Scylla, who was on pain medication, and having trouble breathing. We all held Scylla, told her we loved her, and about 10 minutes before we let her go, my son finally understood.  He started crying uncontrollably, as we all did.
I then held my special little doggie friend for the last moments of her life.  I had promised that I would hold Scylla when the time came over 13 years ago when we first had Scylla join our family.  I knew it would be hard, but I was not prepared for the grief and sadness I felt as Scylla took her last breath, and I felt her last heartbeat.  She was gone, and I was left to go on without my best doggie friend of 13.5 years, the best dog I have ever known, and the one that loved me more than anything.
You can never be prepared for the grief, but you can be prepared for what you need to do.  The past week has been a blur.  I went to work, and met with clients, but feel like I have been physically beat up.  I am overwhelmed by grief at times. I have cried with my wife, my children, and by myself.  The last thing I want to do is deal with work, but I must. I am sure my work has been affected by grief, even if I am not sure how.
My grief for my dog Scylla is ever present right now, but I know it will fade.  Over time, happy memories will replace the heaviness and sadness I feel.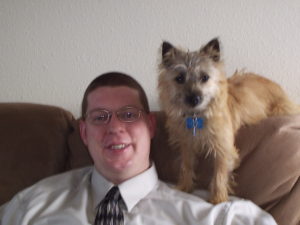 I knew that Scylla was an older dog.  Her breed lives 12 – 15 years, but the day before we lost her she was as happy and playful as ever.  We knew that it was possible we would lose Scylla soon, but I was not ready for it to happen in one day.
I don't think you can ever be ready to lose a loved one, especially a family member.  Scylla joined my family first, and my kids have never known life without her. Scylla made us a family when my wife and I brought her home.  We even joke that Scylla was our practice kid!  She has been with us since before I passed the bar exam. She was there to help me study, celebrate when I passed, and welcome all of my children to our home after they were born.
When the time came to let her go, I did what I needed to do, I did what I had to do.  It is my wish for every family I work with to have the sufficient time they need to grieve after the loss of a loved one. Nobody who loses a loved one wants to deal with assets while still grieving, that can come later.  A good estate plan allows you the time you need to grieve, so you can prepare for what lies ahead.
-Michael